Being born in a Christian family in India, masturbation and sex have been taboo topics since childhood. It was only after technology became affordable to me, that I could start exploring things related to sex—such as porn—on my mobile phone. Before that, masturbation was something that I discovered on my own. It started by touching the genitals. It felt so good, but I couldn't figure out why it gave me pleasure.
At the age of 10, I was diagnosed with Juvenile Rheumatoid Arthritis (JRA), an auto-immune disease that causes persistent join pain, swelling and stiffness. As the disease progressed, I became bedridden. By the age of 13, I was unable to go to school.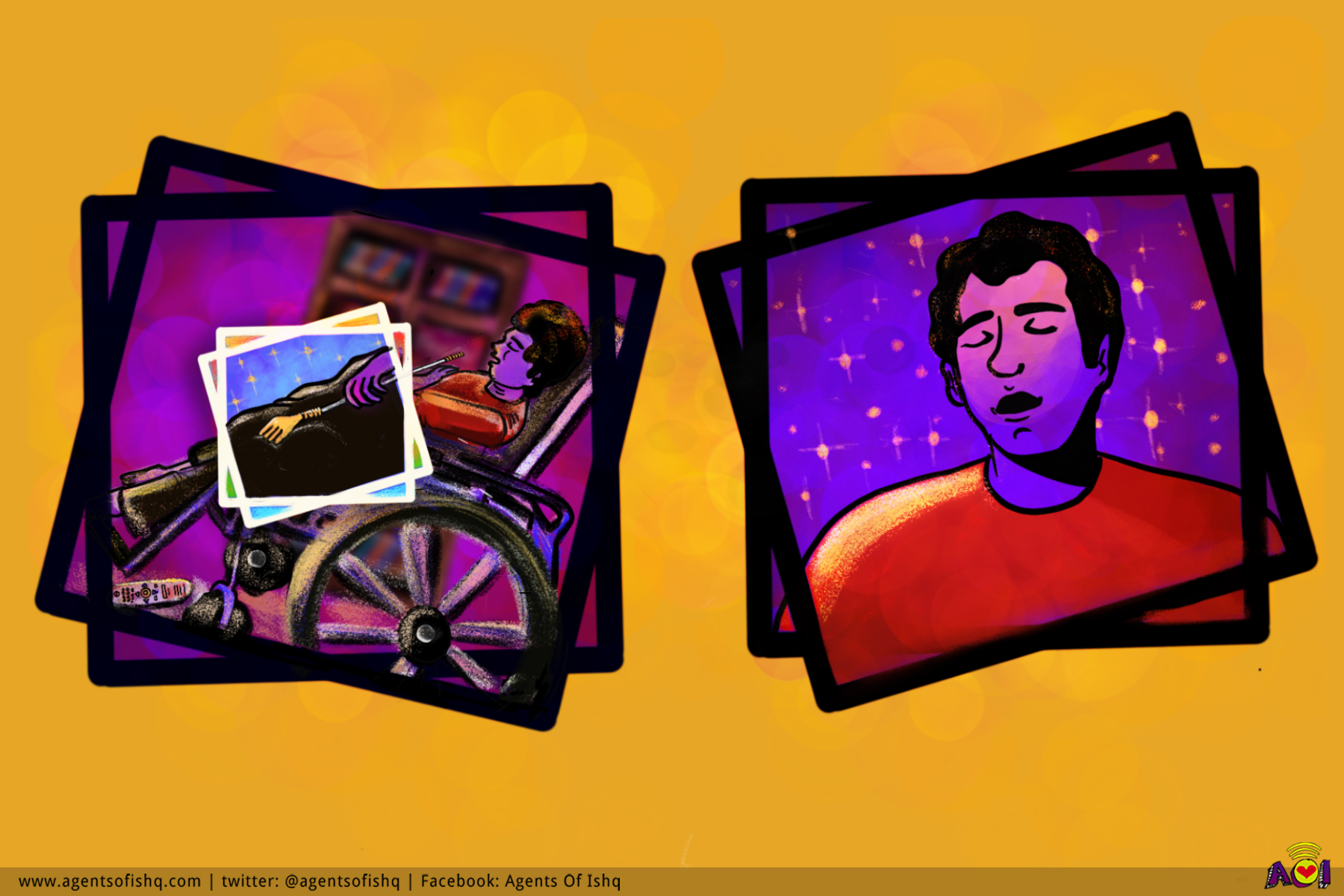 And so, the exposure I got to the external world started decreasing. I could not be with any of my friends. There was no access to sex education either. I was not on social media back then. Hence, there was no space for me to learn about masturbation, sex, or any such things from the outer environment.
I was left alone most of the time, and so I was pretty much engulfed with loneliness.
I had a crush on a girl who was in my neighborhood at that time.
At that time, I had very few friends. Even with them, there was no conversation about sex or masturbation.
It was when I became active on social media, that I was exposed to various disabled activists. It was here that I came to know about the concept of mindgasm, through the social media handle of disability activist Andrew Gurza.
Mindgasm is a method where one can reach an orgasm without touching the genitals, by simply thinking or fantasizing sensual thoughts. Through social media I realised that many people with severe disabilities masturbate using this method to reach an orgasm. I also realised that I had been using this method even before knowing about its name.
As the rheumatoid arthritis progressed, my hands became disabled. This made masturbating difficult, because reaching my penis has not been possible since then. Then, I started to try mindgasm. While watching porn or any sensual scenes in movies or songs, I would fantasize and the thoughts helped me derive pleasure which led to an orgasm.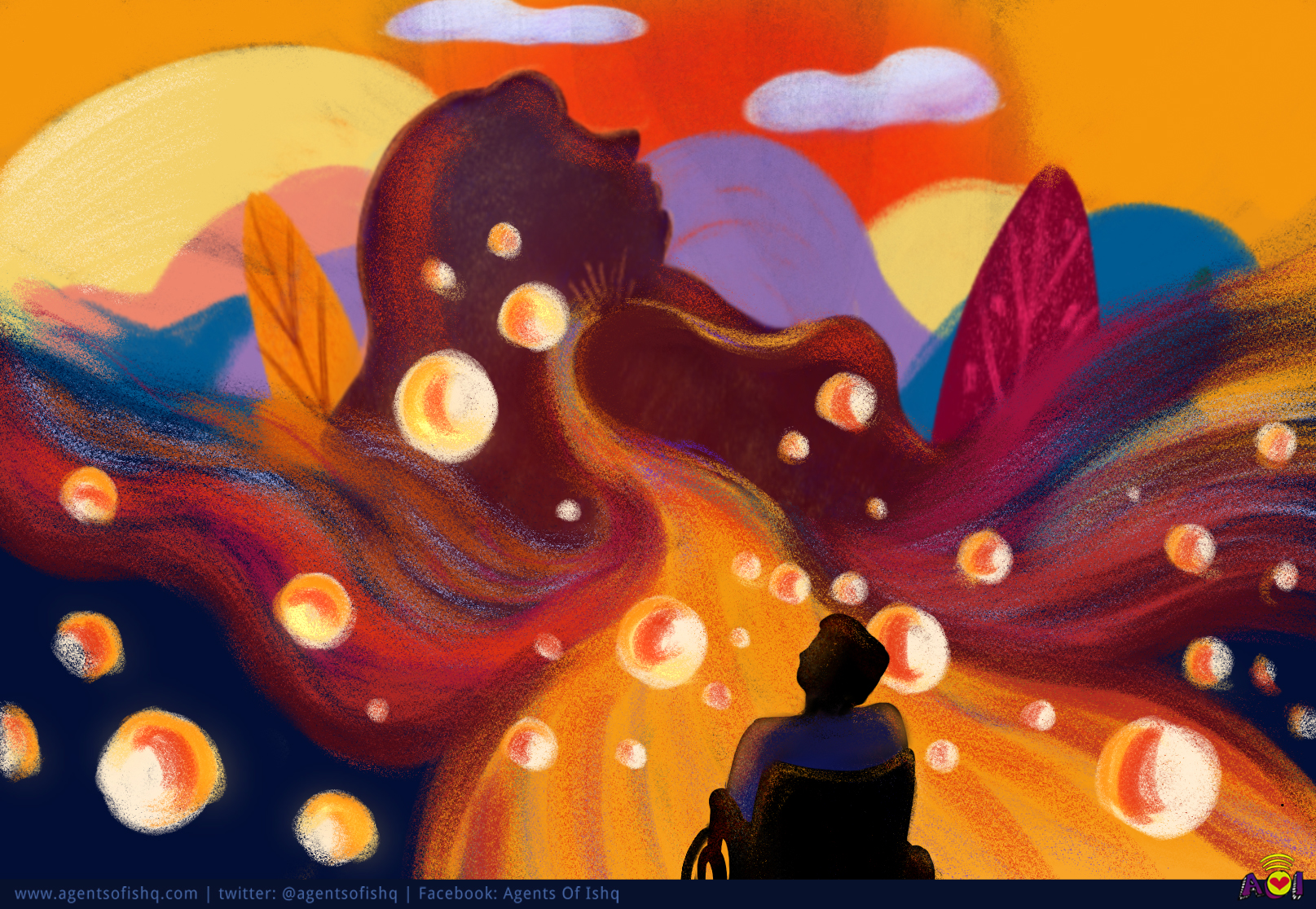 Reaching an orgasm by simply using the mind is far more difficult that Reaching an orgasm through this method is difficult when compared the usual method of masturbation. Since it has to be done without touching the genitals, it requires a lot of focus and energy. Yet, it felt different to me.
Mostly I was alone at home during the day time since everyone would leave home in the morning for work. So, privacy was available during the day, and I had people around me at night.
Apart from mindgasm, I try to masturbate by touching my penis using available objects such as a comb, TV remote, book, backscratcher, etc. The backscratcher is comparatively better than the other objects as it's easier to reach the penis using it. But it is not as pleasurable as masturbation done by using the hands.
I have to use these objects as there is no space at home for me to ask for suitable objects or sex toys. Also, most sex toys available in the market are not easy to use. The design of sex toys should be inclusive, making them accessible for disabled people as everyone has the right to experience sensual pleasure and satisfy their sexual needs.
There are a lot of stigma around the dating life of a disabled person, making it difficult for them to date.
Most dating apps are not accessible. For example, the verification process in dating apps such as Bumble and Tinder are not accessible to me. This is because I had to pose with my hands in a way that they asked me to, in order to get my profile verified. Since my hands are disabled, I couldn't use these apps. Dating in Indian society for a person from a Dalit family is highly difficult and inaccessible when compared with others who have an elite background.
I haven't seen any representations about the dating life of a disabled person.
Exposure I got from social media and some disability activists made me understand the politics behind disabled people and their relationships. Gradually I understood various social issues and how much ableism there is in society, making the life of disabled people highly difficult to live in such an inaccessible society.
Since then, these two things changed in me: suffering and fighting.
No, the suffering did not end.
But, at least now I suffer with the clarity that the problem is not with my disability but with the inaccessible society.
No, the fighting did not stop.
But, at least now I know I must fight with the stereotypes and stigmas created by ableist, non-disabled people and not with myself.'
Naveen Daniel, pronouns: he/him, is a Dalit disabled activist. He actively fights against all systems of oppression with his words and art in whichever place possible and accessible