Are you a teenager? And how is that working out for you? The less said about it the better? But maybe not enough is actually said about this complicated time of life you are in, when you're no longer a kid but not quite an adult.
And what about all the kuch kuch hota hai stuff? Love, sex, desire, attraction, confusion, crushes, senti feels, she-loves-me-he-loves-me-not wala stuff? The stuff everyone jokes about but nobody really really talks about?
Here are 5 books that do.
They're perfect for young adults, but pretty good fun for not-so-young adults (All of us Agents of Ishq loved them). And the best part – they're 100% shuddh desi with Indian characters who talk English like Indians and exist in worlds you can relate to, dealing with all the complications of teenage life and love. When kuch kuch hota hai, you need this stuff too – Karan Johar isn't always enough!
1. Flat-Track Bullies by Balaji Venkatraman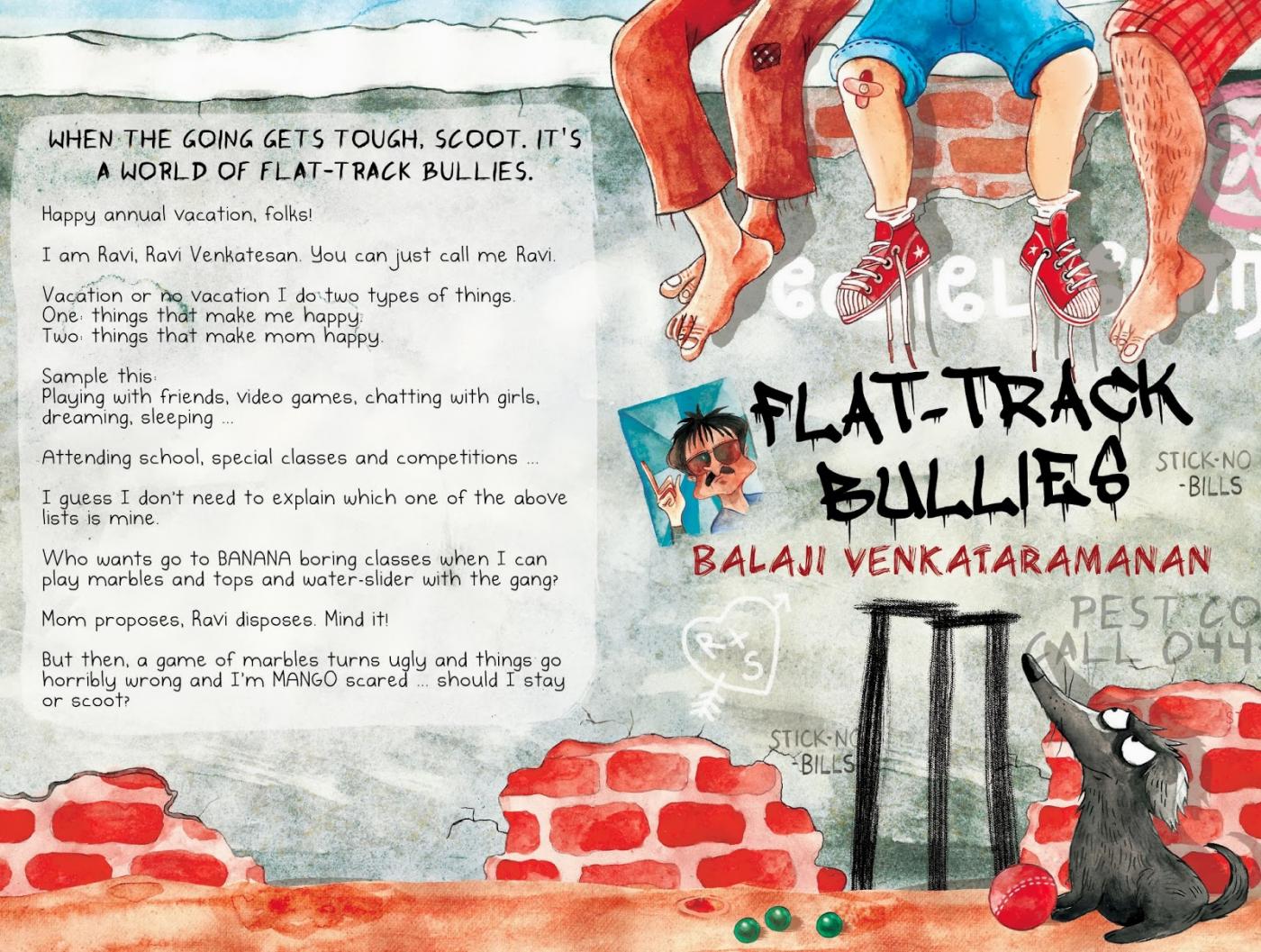 Pages: 256 Pages
Language: English
Publisher: Duckbill Books And Publications
Age-group: 12 and up
Who was your first school crush? Did you love tuitions because it meant you could spend an extra hour with your crush? What about those long phone calls that began with excuses like Math problems, hmm?
That's just what's going on with Ravi Venkatesan, aka Ravi, aka the Sachin Tendulkar of marbles matches, the lead character of Flat-Track Bullies.
His vacation before middle school has just begun and for every vacation, one must have goals. One of the most important goals in Ravi's list is Mission Rapunzel, ie., to befriend Shweta, his 'beautiful' classmate. In school, she sat five benches away but during the vacation, she has become his bench-mate in IIT coaching class. When he sees her, kuch kuch hota hai, but he doesn't know what it is. However pointless those classes may seem to others, for twelve-year old Ravi, Shweta's presence adds beauty to everything, jaise, khilta gulaab...jaise, shayar ka khwaab. He thinks it is a 'medical problem' to be attracted to girls! But he has a plan!
Shave twice a week to encourage a moustache
Begin with talking to less hot girls and upgrade eventually
Take advice from older boys about talking to hot girls
While juggling summer classes, vacation fun and trying to understand girls, Ravi has the most exciting adventure with unexpected twists, turns and nail-biting suspense, boletoh, like the last over of an IPL match. The book is a roller coaster, one-sitting read.


2. Slightly Burnt By Payal Dhar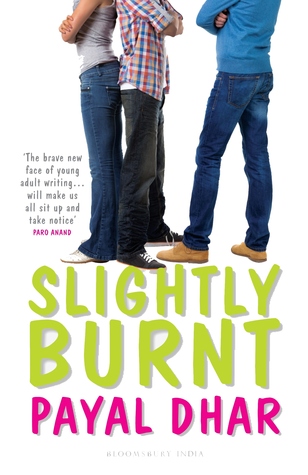 Pages: 185 Pages
Language: English
Publisher: Bloomsbury Publishing India
Age-group: 13 years and above
Komal is a 16 year old girl growing up in Delhi in a fairly chilled-out household with not too many rules. Two things give her the tingles in the tummy - love notes with roses from her school senior Rajat and the aroma of good food. She loves hanging out with her best friend Sahil.
She loves cooking, especially combining unexpected combinations of ingredients. The results are wildly uneven, sometimes awesome, sometimes awful, but there are always takers, even for the slightly burnt output, because nothing and no one is perfect, right?
Komal totally gets why her brother Vikram prefers photography over cricket but can't seem to get why, in weddings, girls have to wear scratchy ghaghras when boys can look comfortable and cool in kurtas.
But life's pretty good – except for the fact that her second-best friend Rashmi, is totally hung up on Vikram and keeps bugging Komal to do some setting on that front. Which is, frankly, big eye- roll!
But all this recedes into the background when Komal stumbles upon a baffling secret. How is she supposed to react when she finds out that someone she loves is gay? How do you deal with your fears for the discrimination this person might face? Who can she discuss her confusions with? She turns to the universal best friend: Google. There are plenty of people online who share her doubts. But it's still not the same as talking to someone.
Slightly Burnt is that rare thing – a book which deals with a political issue (in this case LGBT choices) and is still super fun and super true to life. The best thing about this highly entertaining book is how relatable every character is, how real the language and situations feel to a regular middle-class urban Indian household.
Slightly Burnt is a delightful reminder that however unusual the ingredients, with a pinch of fun, cooked in the heat of love and friendship, anybody can make a flavoursome dish out of life.
Maybe slightly burnt but it can taste delicious after all.You will definitely want a second helping!


3. Comics Epidemic - An anthology of tales from Dharavi. By the Children of Dharavi, Edited and Curated by Chaitanya Modak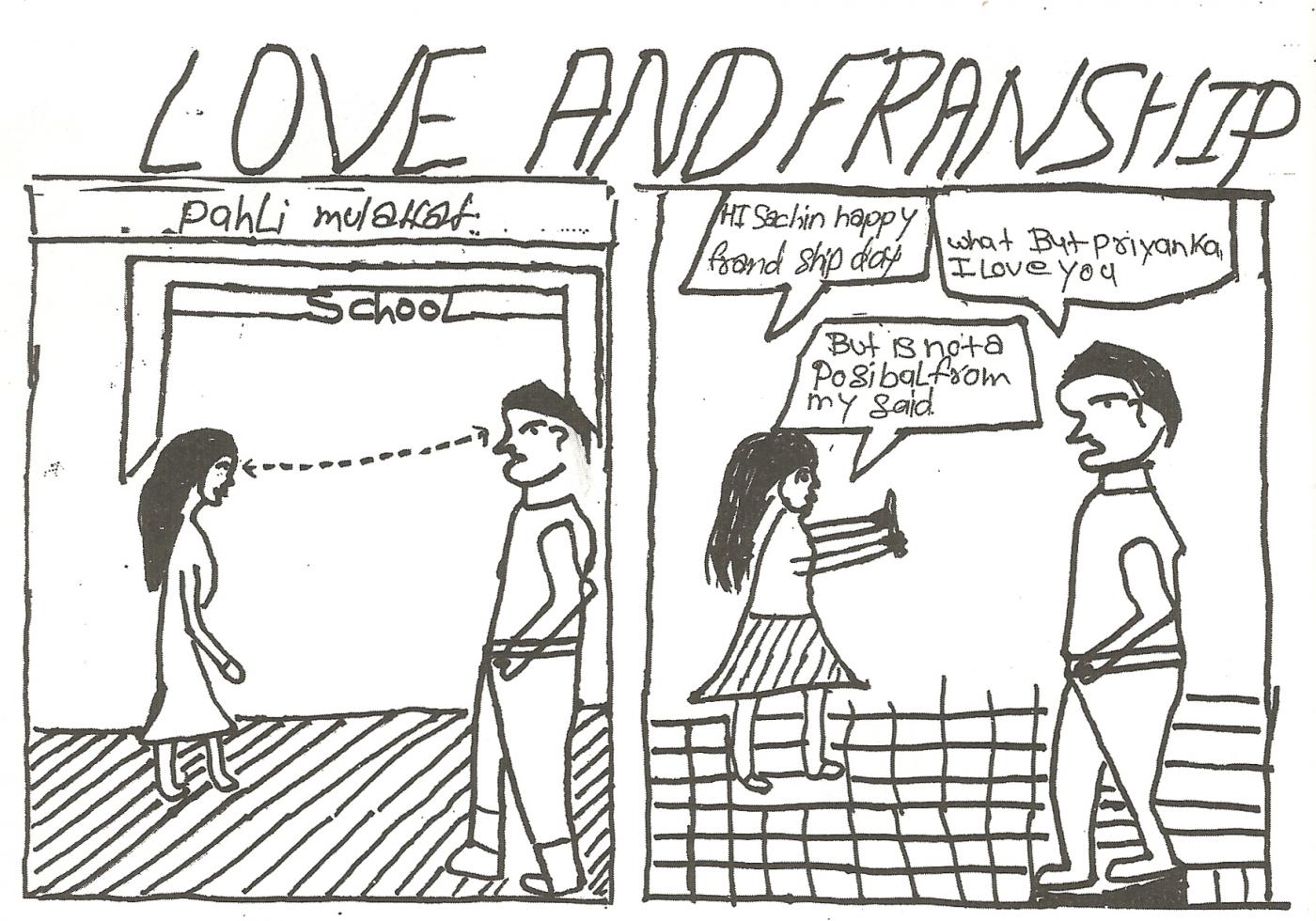 Pages: 100
Language: Hindi, Marathi and English
Age-group: 13 and up
Publisher: A Dharavi Biennale Publication, Supported by SNEHA (Society for nutrition, education and health education)
A boy proposes to a girl. She says, nope.
He says, ok it's no problem let us be friends. The end.
Is this something that has happened around you, but you haven't read in a book before? That's exactly what this collection of comics are all about. Stories, fantasies, questions and thoughts – not all of them might be "correct" but are certainly a very honest glimpse at what young adults are seeing and retaining in their world around them.
Case in point -'Parde Mein Rehne Do' is a hilarious sketch on masturbation where fake TV interviews are conducted with a range of people from a software engineer for whom masturbation means turning a computer on, to a baba who thinks masturbation is like painting (haath aur kalpana ki shakti lagti hai). It ends with the message 'aap hi faisla karo ye sahi hai ya galat, kyunki aap hi kokarnahai' – which very rightly sets the non-judgmental tone of the book.
Comics like this while taking away the icky awkwardness for parents and kids to talk about masturbation, also sweetly introduces the delightful idea that masturbation can mean anything that gives you pleasure.
A good chunk of the stories are about our favorite topics of love, sexuality &desire though many of them also talk about health, nutrition and safety, but no matter how serious the topic there is always that little glint in the eye, nudge-nudge wink-wink joking quality to seeing things which makes us feel like every comics full of ishq. The language is a mazedaar mishmash of Hindi, English and Marathi with a fun bonus of seeing words like chaaaat, chi! And arre arre in speech bubbles.
Some stories can be a bit dark, even for adults. But they are the stories where kids talk about the anxiety of being seen as normal plays on their minds. Boys feeling pressured to prove they are masculine, older kids in school being mean to you, why kids spread rude lies about other kids are things that everyone struggles with while growing up – and reading this in a comic-book can help them relax and not feel like they are the only ones suffering and maybe take a leaf from book and make jokes about their experiences as well.


4. Starcursed By Nandini Bajpai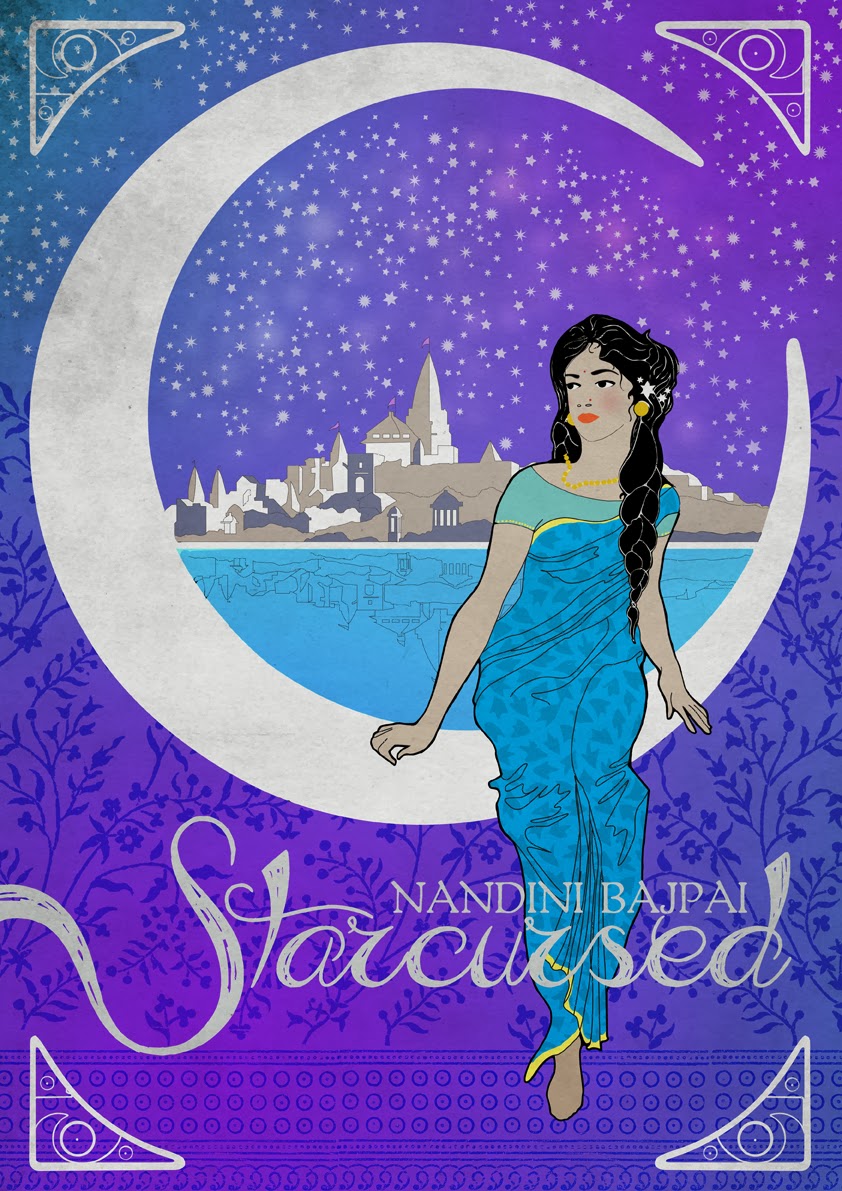 Pages: 274
Language: English
Publisher: Rupa Publications
Age-group: 13 years and above
"He glanced down and caught me staring. I could hold his gaze only for a heartbeat before dropping mine.
Blushing, I pushed his arm aside and moved away. 'You fly it. I will watch for now."
This and many other Kuch Kuch Hota Hai moments makes 'Starcursed' a Bollywood-ishtyle love saga – just set in 12th century India. There are stolen glances, rain sequences and crucial to any epic love story, pyaar ka dushmaan.
Leelavati and Rahul are perfect for each other but they belong to different class and religious backgrounds. Pigs might fly but their union is just not possible.
Leelavati is born under the influence of an evil planet and is therefore 'unmarriageable.' The world may think it is a problem. But
Leelavati loves the perks the tag brings her. She can now indulge more in mathematics, avoid learning household chores and have no tension of going to random sasural. And then, ishq plays it's tricks, and she falls for Rahul (not played by SRK, unfortunately or fortunately). So, now what?
As Leela and Rahul try to figure out how to get love to triumph over everything else, young adults will find a world of feelings to relate to. All the confusion and unrest one feels when it comes to making choices in love or otherwise - choices that feel correct to you but if looked at from the society's lens are a total no, no.
Everyone in the story starts trying to amend traditions and rituals to accommodate the ones they love – because the pyaar ka funda of this book is: there is no need to sacrifice yourself. 'Starcursed,' also has no damsels in distress. There are real women with unique identities and boys with normal feelings. Hurray!
Agents of Ishq recommend this book to both teenagers and adults. As you cheer and pray for Leela and Rahul to get together you might also feel encouraged to take matters of your life into your own hands and make some of your own luck.


5. Talking of Muskaan By Himanjali Sankar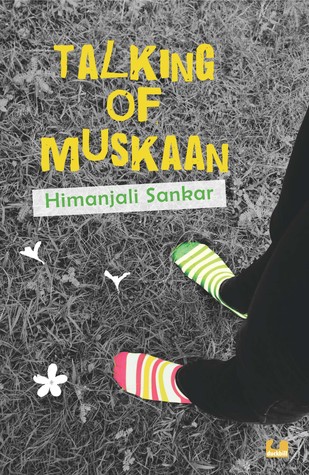 Pages: 154
Language: English
Publisher: Duckbill Books
Age-group: 12 years and above
"Tighten your muscles," I said.
"Stop being a macho girl Muskaan. Give up. Today the makeover begins."
There's more – Muskaan's romantic feelings are for other girls. But where is the place, the language, even the teasing, which takes that into account?
Talking of Muskaan has shades of darkness, as it delves into the mind of 21st century teenagers - independent thinking and inward looking, continuously coping with what's coming their way with the help of Google or imitating elders. But how does this help them cope with the difficult truths of teenage life – with bullying and mockery done just for laughs, with serious cruelty if you are a misfit? Even if you are not a misfit, parts of this book will resonate for anyone in that half-way to grown up place called teenage.