By Neha Yadav
Graphics by Debasmita Das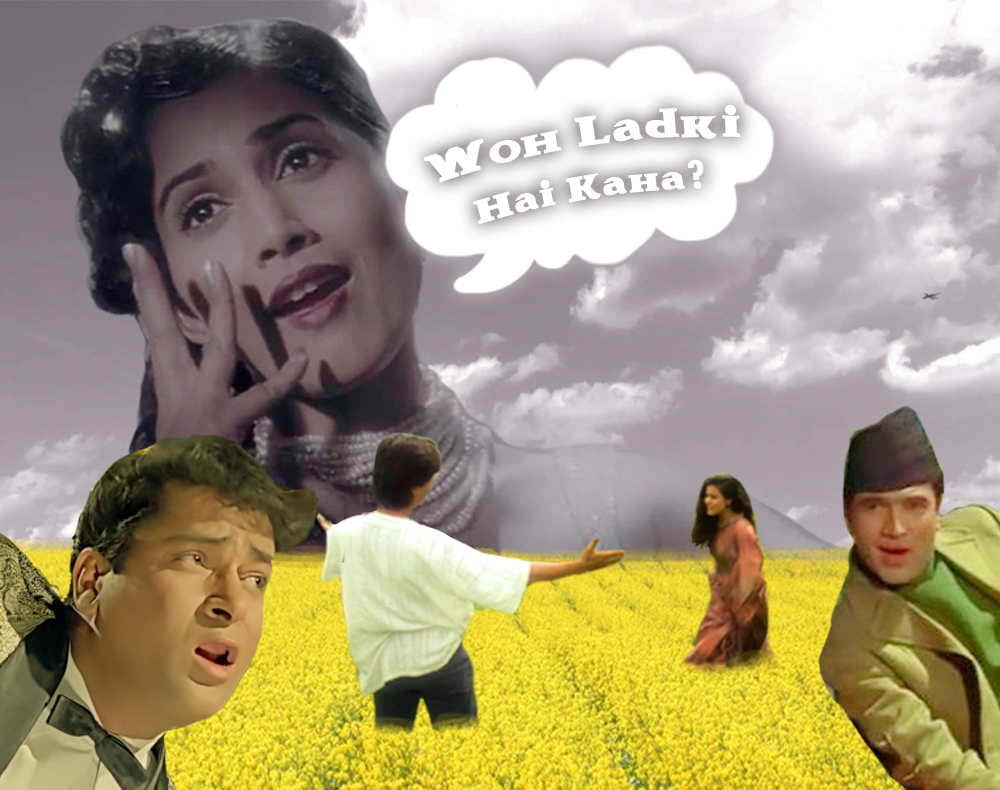 Meet X.
X had something awful happen to her in her twenties.
X fell in love.
Need-to-wrench-thoughts-away-from-him-to-be-able-to-perform-simple-everyday-tasks kind of love.
He-doesn't-only-walk-in-sunshine-but-positively-radiates-it-along-with-goodness-kindness-nobility-and-unfair-amounts-of-talent sort of love.
Confession seemed out of the question. It would have meant jumping over the hurdles of insecurity and crippling self-consciousness, overcoming bone-deep cowardice, and destroying the demon of cynicism. It would have been like leading the lamb to the slaughter, or offering up a noose along with one's neck to the hangman (X is dramatic when emotionally overwrought).
But there was another problem, one that X had never considered before: Where were the words?
Since X fell in love not with the nuance of a European indie film but with full Bollywood bombast, that is what she turned to; specifically, the intersection of poetry and rhythm that was Bollywood's gift to us: the songs. Reena Dubey, an academic who has worked on the Hindi film song as an instrument of seduction, says that they  operate "as a collective, social imaginary as well as personal fantasy." They structure, therefore, even something as personal and idiosyncratic as desire.
X can relate.
X, like most of northern India, grew up in a household that echoed with the Hindi songs of her parent's youth. Kishore Kumar, Mohammad Rafi, Jagjit Singh, Mukesh & co reigned supreme as these adults went about the business of daily life, perhaps reliving memories in the lonely, unknowable centre of the self. X's childhood experience of these songs was formative, even though divorced from the messy realities of the sentiments behind them. The longing, ache, wonder, want, aggression, pleading, cajoling, and adoration expressed in these songs registered in a dim way in X's subconscious; festering in the dark along with other cultural influences over the years, ready to be catalysed, once puberty had set in, by chance/fate ordained event. What did register forcefully even then, and set the course for how X would come to understand the rituals of love, was that the active agents, the ones making the first move in most cases, were the men.
These bards were everywhere: serenading chiffon-clad beauties onscreen, crooning sweet nothings from behind impersonal speakers, played for hours on end during family road trips to nani's village. The songs, hundreds of them, seemed to meld into a grand narrative in the service of a master, Love; the priest in this temple the Lover-Poet, who assumed different forms and different voices to sing of his love across genre, across time.
This male lover pyaar-hua-ikraar-hua-hai-ed from under a black umbrella, the declaration of his feelings as relentless as the wind and rain from which the heroine seeks cover. He promised his love that she lived pal-pal-dil-ke-paas and asked her for a dua for his dil-ka-chain. All sapno-ki-rani were breathlessly admired for their gulabi-aankhen and badan-pe-sitaare. Main-shaayar-toh-nahi, he claimed, his newfound poetry a product of meeting this haseena that holds him in thrall now. He dhoondhta-fir-raha his jaaneja all this time, he said, and couldn't imagine a life before, or without her. In fact, his dil is convinced sometimes that she was zameen-par-utara-ed just for his adoration and that she could, in the face of it, bhula-na-paayo him either, his geet a perennial reminder of his love.
A new age gave him a new idiom, though the essential sentiments proved timeless. Pehla-nasha for this khilta-gulab, and shaayar-ka-khwaab, and ujli-kiran was still disorienting, exhilarating. Geet was still his preferred medium to aarzoo-jagao in the beloved. Pyaar-hota-hai-deewana-sanam, he threw in the face of a too-rational, rule-bound world, challenging them to ishq-kijiye-phir-samajhiye. Consumed by laal-ishq, he haunted her galliyan, since she was dard-bhi-chain-bhi. He got frustrated sometimes, because alfaaz seemed to destroy jo-bhi he wanted to say, but words and music remained his best bet because the alternative – unreturned love – was ae-dil-hai-mushkil.
Hindi cinema is often derided for what the rest of the world sees as overblown song-and-dance routines, that imbecilic running-around-trees, but X always thought of them as love poetry for the masses; no less influential, no less stunning, no less will-reach-into-your-ribcage-and-pool-in-your-stomach-and-echo-in-your-dreams for it.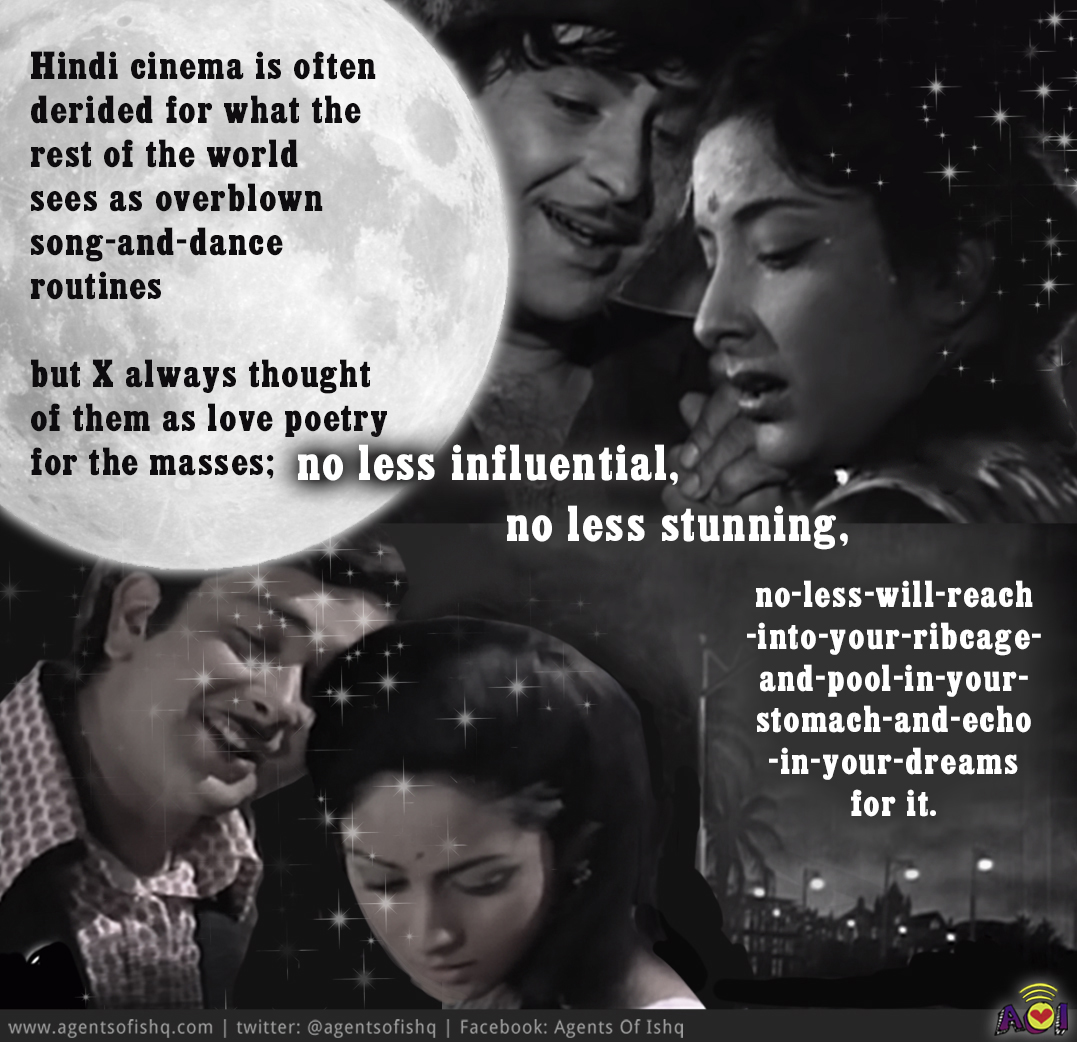 The bards' love and promises were made irresistible by the sheer scale and intensity of them. X bathed in this light for many years, her soul warmed by the universes they pledged. Later, a liberal arts education made a lot of these songs problematic. Some of them reinforced sexist biases, some didn't understand consent, others assumed heteronormativity and even promoted stalking. But this studied critique could never quite puncture that first, almost primal connection which was made all those year ago. The damage had been done.
Imagine X's shock then, when decades of second-hand serenade collided with urgent, real-life emotional upheavals. Denial put up a valiant fight to preserve sanity but eventually had to admit defeat in the face of overwhelming evidence. X found that much of her vocabulary for these new feelings derived from the same songs she had grown up listening to. Imaginative empathy leapt over the boundaries of fiction and gender when it came to yearning.
Yearning. It seemed an active enough thing at first; the mad rush of blood within, a traitorous pulse rate, the relentless but futile battle with daydreaming. But this kaleidoscope of symptoms disguised the essential safety of yearning. One ventured nowhere, risked nothing. This is the point where a wall appeared that imagination failed to climb over. You see, this is the point where yearning, on celluloid at least, makes what seems like a natural progression and a declaration of love comes pouring forth in verse. But these brave declarers, almost invariably confident of acceptance, were overwhelmingly male. The adventurers, the conquerors, the poets, the singers, the wooers, all of them men.
Sure, there has been wonderful, lovely, mesmerising music that pays tribute to female desire. Ajeeb daastan hai yeh from Dil Apna aur Peer Parai (1960), Aap ki nazron ne samjha from Anpadh (1962), Chura liya hai tumne jo dil ko from Yaadon Ki Baarat (1973), Buhat pyaar karte hain from Saajan (1991), Dilbar Dilbar from Sirf Tum (1999), Ang laga de from Ram-Leela (2013) are a few examples that come to mind; in fact, Sushmita Sen putting on the moves for Sanjay Kapoor in Dilbar Dilbar was an early inkling for X that sexuality might just be a spectrum and not a binary, after all. There were the vamps of 60s and 70s cinema, of course, embodying provocation and singing their desire out loud in clubs and mehfils. Helen, epitomised this filmic figure; crooning Matwali Ankhowale to Mehmood as Sophie in Chhote Nawab (1961), sparring with Shammi Kapoor in O Hasina Zulonwali as Ruby in Teesri Manzil (1966) even as he makes eyes at Asha Parekh, and mesmerising a room full of men in O Suno To Jaani as Neelam in Aansoon Ban Gaye Phool (1969) or Kamini in Don (1978). Sameera Mehta, writing about Helen's roles in these films notes that "the crooning vamp was often cast as an "adversarial" figure to the demure leading lady to "strongly demarcate the boundaries of filmic femininity." In other words, within the somewhat simplistic moral universe of these films, a sexually self-assured, boldly articulate woman is invariably a vamp.
The vamp, for her troubles is in the end either killed off, chastised and appropriated into respectability, or simply made to disappear. Notably, she never gets the man. As a romantic model, therefore, she failed to fit the bill for X. As Hindi films changed and the strict binary collapsed,  the heroine was allowed to express sexual desire without being vilified for it. The sheer sexiness of the female come-on, however, whether Raveena Tandon in Tip Tip Barsa Paani or Madhuri Dixit in Dhak Dhak Kar ne Laga or Deepika Padukone in Ang Laga De, was intimidating to X's fledgling sense of sexual agency; attractive in an aspirational way but also light years away in terms of attainability. Romantic duets presupposed mutuality, so they were out too.
At the risk of generalising, relatable romantic songs sung exclusively by women are like distant points of light on the road of time, as opposed to the male tradition where the torch has passed neatly from one group of troubadours to another in a continuum. Men in love have had a varied but consistent history of expression to pick and choose from. This, coupled with the cultural construction of gender roles, pretty much ensures that men need not lack for words when it comes to shouting their love from rooftops, or water tankis like Sholay's Veeru – or at least putting it down in grafitti.
This is how X rationalises her own act of cowardice to herself, anyway.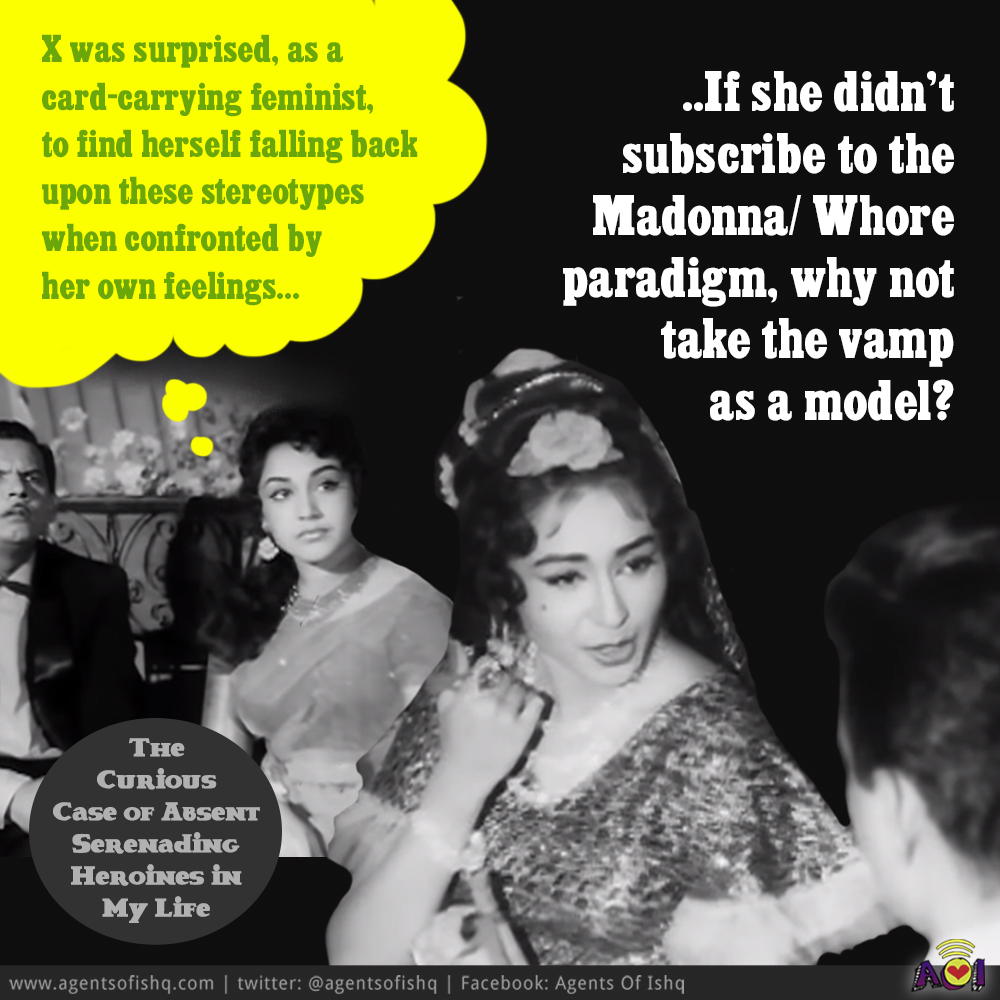 X was surprised, as a card-carrying feminist, to find herself falling back upon these stereotypes when confronted by her own feelings. If she truly believed that gender is a performance, why not just model herself on the hero? If she didn't subscribe to the Madonna/Whore paradigm, why not take the vamp as a model? The answer, X supposed, has to do with the murkiness and messiness of the human heart which repeatedly strays from the party line. She was a feminist, yes, but she was also enamoured with the Shah Rukh Khan films of her youth; the desire to be wooed in a lush mustard field by someone who puts it all on the line for you is a hard fantasy to give up.
Anyway. She isn't sure she would have fessed up in any circumstance whatsoever, but having the words of a whole unbroken line of fictional women behind her sure wouldn't have hurt.
Neha Yadav is a doctoral candidate based in Goa. When not engaged in research or reading, she takes guilty pleasure in rewatching Shah Rukh's older films.