By Salik Khan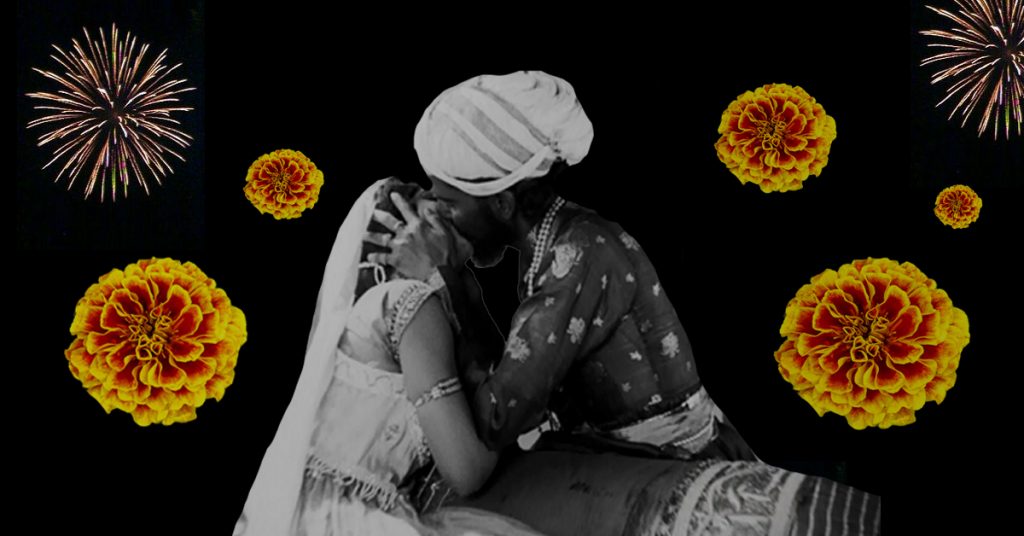 Have you ever been let down by a word?
When I first discovered the Urdu word for 'kiss' – 'bosa', I was disappointed. To 15-year-old-me, the word defied the rules of phonosemantics (sound symbolism) and failed to capture the tenderness of a kiss. My first reaction to this new information was a sense of surprise, and I had a lot of questions swirling in my mind. How on earth had a language like Urdu, which is known for its aesthetic beauty, sweetness and 'nazakat', ended up with a word like 'bosa'? I felt no affinity towards other Hindustani colloquial terms like 'chummi' or 'chumma' either, because, to me, a kiss deserve a better word. I couldn't recall any Bollywood song using 'bosa' in its lyrics, even when they derived their vocabulary heavily from Urdu. Was it because phonetically, the word 'bosa' doesn't sound great? I decided to learn more about the word.
India might just be the birthplace of kissing. The words "busa" or "bosa" were used to refer to kissing in ancient India, and the Latin term for kiss – "basium" – and the Old English words "ba" and "buss" are said to be derived from these. The earliest references to kissing-like behaviour are around 3,500 years old, in the Vedas and Sanskrit scriptures related to Hinduism, Buddhism and Jainism.
There are of course many different kinds of kisses, and when an Urdu shayar talks about 'bosa' in the Ghazal, he's not talking about light, tender, airy kisses. Rather, the word, 'bosa' represents a more passionate form of kissing. As Robert Herrick writes in Hesperides (1648):
Kissing and bussing differ both in this,
We busse our wantons, but our wives we kisse.
In the Urdu ghazal, we see the word used in this context in the work of several Urdu and Persian poets, including that of Ghalib and Mir. 'Bosa' calls up the love-play and longing of passionate physical desire. Here are ten beautiful Urdu couplets that use 'bosa' in various ways:
Lagaya jaam e mai honton se usne, humko rashk aaya,
Ke bosaa uske lab ka, aye Zafar, lete tau hum lete.
(As he put the cup to his lips, I was, Zafar, by envy hit,
Wishing that I, and not the cup, should have kissed those lips.)
– Bahadur Shah Zafar
Bosa dete nahin aur dil pe hai har lahja nigaah
Ji me kehte hain, muft hath aaye tau mal achcha hai.
(He has his eye on my heart, but doesn't concede a kiss,
The stuff is good, he seems to think, if it is gratis.)
– Ghalib
Ghuncha-e-na shagufta ko door se mat dikha ke yoon,
Bosa ko poochta hun main, munh se mujhko bata ke yoon.
(Do not avoid me now, your rosebud lips pursed so
I ask for a kiss, part those lips in answer.)
– Ghalib
Boli yeh andleeb ke baaqi na chhoreo,
Aise samay me khwahish-e-bosa-o-kinaar ho.
(The nightingale cooed its counsel: don't let the chance slip,
This is the right romantic time, the time to cuddle and kiss.)
– Insha
Sohbat me ghair ki kahin padi na ho yeh khoo,
Dene laga hai bosa baghair iltejaa kiye.
(Could my rival's company have this habit in him bred?
He has offered to kiss me, unsought, unsaid.)
– Ghalib
Dikha ke jumbish-e-lab hi tamaam kar hum ko,
Na de bosa tau munh se kahin jawaab tau de.
(By showing movements of those lovely lips, you have finished me off,
Fine, don't kiss my mouth, use yours to respond elsewhere at least.)
– Ghalib
Be ginti bose lenge rukh-e-dil-pasand ke,
Aashiq tere padhe nahin ilm-e-hisaab ko.
(We'll imprint unnumbered kisses on our darling's face,
What know we of counting, we passionate, illiterate!)
– Aatish
Bosa-e-rukhsaar par takraar rahne dijiye,
Lijiye, ya dijiye, inkaar rahne dijiiye.
(Come now, let's not quarrel, over each kiss
Either take it, or give it, what's to resist?)
– Hafeez
Kya khoob tum ne ghair ko bosa nahin diya
Bas chup raho, hamare bhi munh me zaban hai.
(What a plea to make that you did not offer a kiss to someone else,
Hold your clever tongue; I've a tongue in my mouth too. )
– Ghalib
Lal-e-khaamosh apne dekho ho aarsi mein,
Phir poochte ho hans kar mujhe be nawa ki khwahish.
(You've seen your ruby lips in the mirror, I believe
And still you smile and ask, "what is your wish?")
– Mir Taqi Mir