Have you ever had the sex talk? With children as a parent, as a teacher or as an adult with your own parents? Was it relaxed or was it more like the channel that has to be changed as soon as the hero and the heroine looked into each other's eyes? Does the question, 'Where do babies come from?' or the question 'what does gay mean' give you a massive coughing fit that requires running to the bathroom? You know you should be talking to your kid about sex. But you just don't know where to start.
What do you wish you had though? Someone who can tell you how, right? Here's a list of the sex educators you wish you'd had when you were a kid. No need for history to repeat itself.
The list will keep growing but the ones listed here are sex educators we found from around the country. These sex educators think that sex ed is important for both children and adults, not only for their own safety — so that they are informed about consent and boundaries—but also about feeling comfortable and happy with who you are, and being able to talk about it openly, which is indispensable for everyone, regardless of age, race and location.
ENFOLD INDIA

9900094251/080-25520489
http://enfoldindia.org/
Languages: English, Kannada, Hindi, Malayalam
Bangalore, but also across 30 cities in India
The founders of Enfold India are Dr Sangeeta Saksena and Dr Shaibya Saldhana, two women who want to empower children and adults with education in sexuality, personal safety and life skills, basing their teachings in values and human rights.
They believe that there should be conversation around sex, and that the sources we use when there is no information available, like porn, is grossly misleading. For example, one man they counselled was worried that his erection, which lasted six minutes, was strange! When Dr Saldhana asked him how long he would like it to last, he said 30 to 40 minutes. To which Dr Saldhana responded, "I told him, if you have an erection lasts for [40 minutes], your penis will fall off!" In porn, erections seem to last for hours together, but this is completely misleading, and yet, because of the stigma, porn becomes an informational source rather than entertainment.
Sex education is learning about a part of your personality and your body and not only about how to have sexual intercourse, they clarify. And it is not only about a person's safety, but it should also be about acceptance. They have also launched an app called Surakshith, which is a personal safety guide for children from ages six to 18.
To watch a wonderful three-part series video that Enfold India did with Agents of Ishq on sexuality and how to talk about it, head over here, here, or here.
HAPPY RELATIONSHIPS

Happy Relationships is co-founded by Dr Sandip Deshpande, a sexologist, and Vidya Bhat. They are a team of sexual health and relationship counsellors, who work on both online and offline platforms. Apart from providing consultations on sexual health and relationship wellness for public, they take sessions at schools (for students) and for parents about sexual health. There are some sessions that are informative, and some which are therapy-oriented.
Since parenting is a job with no rigid rulebook, Happy Relationships has sessions called "Conversations with your Kids" with parents to understand how to talk to children about sensitive subjects like sex.
For children, they have lifestyle workshops that explore body image issues, peer pressure, and these subjects ease into matters of sexual health. For example, Vidya says that school girls often encounter flashers, and the session aims at not letting them feel any shame themselves because the only person who should be ashamed is the flasher.
Another on-going venture of Happy Relationships is to bring sex education to corporates, because "an employee is an individual first and then an employee". Vidya explains that even adults are in dire need of sex ed, and openness in relationships that comes with it. Even grown men and women have several doubts surrounding sex, such as what they call the "Honeymoonitis", which is "because a lot of women come back with urinary tract infections, because men try to insert their penis into the woman's urethra!"
SRINIDHI RAGHAVAN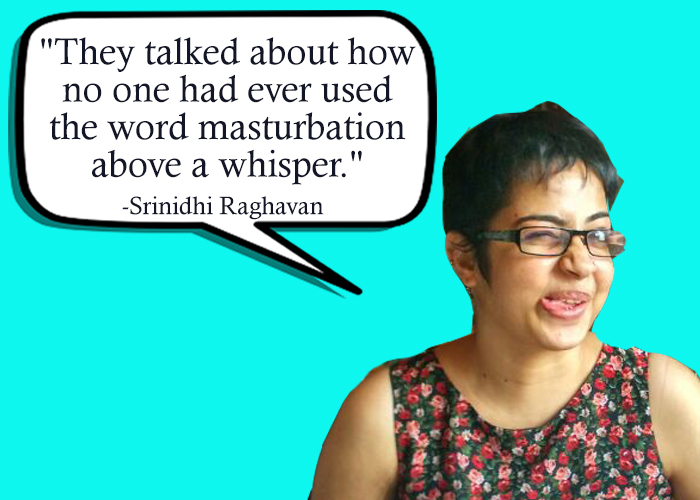 srinidhi.raghavn@gmail.com
Languages: Telugu, Hindi, English
Rates: Rs. 2,000-3,000 for a day-long session, but varies depending on how much the client can afford
Maharashtra, Andhra Pradesh, Telangana
Srinidhi takes different kinds of sessions from understanding your body, to discussing anatomy, integrity, consent, pleasure and desire. She also talks about how women's bodies are perceived, and the problem with objectifying. She takes sessions in schools and colleges, as well as training young women and girls in villages. She tries to create an environment of openness in her sessions, using audio-visual materials to further challenge any taboos or stigmas — so that everyone can visualise how the parts she's talking about actually look. She talks about a previous class she had once taken, "The class was initially shy, but as they realised this was a non-judgmental space they began to talk about how no one had ever used the word masturbation above a whisper."
To read about Srinidhi's experiences as a sex educator, you can head over here.
HEART TO HEART
Dr Rajan is a sex educator, who has also taken several certificate courses on how to be a sex educator. He has held workshops across several platforms from educational institutes like Tata Institute of Social Sciences to workplaces like the Times Foundation. He says "we aim to break the notion that sex education means encouraging children to have sex," This is why he says he tries to make his methods culture-specific and strongly believes that both parents and children should undergo sex education classes.
ANJU KISH

Anju Kish heads Out of the Box, a Mumbai-based company that offers sex and safety education. Anju tries to approach sex education not only as an informative practice, but as a way to make people feel safe, so they can walk out with a positive attitude. She takes these sessions in schools, but also does private workshops for groups of 10 to 20. She has created a play called Growing Up which is on puberty, and the play is travelling across the country. She also offers a free talk, 'Breaking the Wall of Silence' for groups of adults with over 15 members, to break the myths and stigma around sex education.
MAITRI SAHASRABUDDHE

maitrisahasrabuddhe75@gmail.com
9820331184
Languages: Marathi, Hindi, English
Rates: 45 minute session is Rs.500, occasionally on an honorarium basis
Mumbai, and other regions in Maharashtra
Maitri works in school and college environments, as well as her clinic, to raise awareness about STIs, and guide parents on how to handle questions around sexuality and their bodies from their kids. Her clients range from three to 20 year olds. She thinks that parents sometimes display either one of two extremes: They do not share any information at all, or they share too much without any sensitivity to their child's age and circumstances. One of Rajan Bhonsle's (mentioned above) students, Maitri adheres to his methodology, which is scientific, age-appropriate and culture-specific sex education.
ASHINI SHAH

9869011101
Languages: English
Mumbai
Ashini usually takes sex education classes in schools, for children from classes 1 to 10. With younger kids, like those in primary school, she adopts a more informative and educational method using audio visual techniques. With older ones, she tries to make the session more interactive by having discussions, because they might have already sourced information from pornography and other sources— so the focus is on clarifying misconceptions and answering all their doubts. Ashini says that if a student asks her a question, "It is one of my principles to answer them as honestly as I can."
BREAK THE SILENCE

9848029525/9848017317
breakthesilencecoreteam@gmail.com
https://www.facebook.com/breaktheslience/
Languages: English, Telugu
Hyderabad
While Break the Silence does not deal with the broader subject of sex education, they focus on preventing child sexual abuse. They visit schools, and after taking permission from principals and students, inform the children of their rights, warning signs of sexual abuse, and what kind of behaviour and questions should raise red flags for them.
THE YP FOUNDATION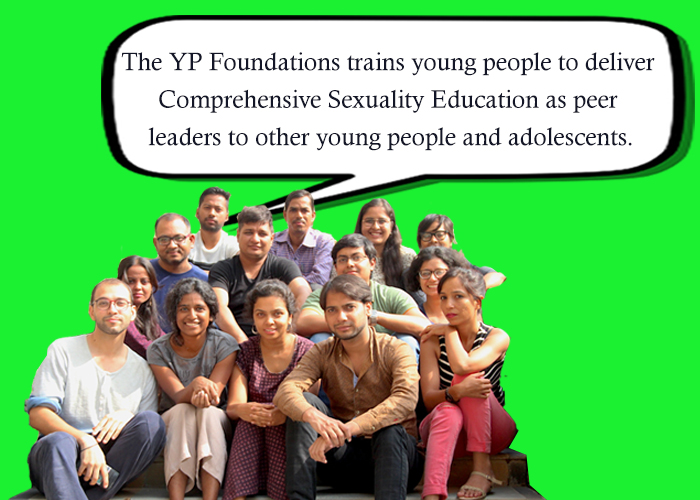 The YP Foundation (TYPF) develops youth leadership to advance rights of young women and girls and other marginalised youth. TYPF's  Know Your Body, Know Your Rights programme trains young people to deliver Comprehensive Sexuality Education as peer leaders to other young people and adolescents. The curriculum ensures stigma-free and rights-affirming information on issues of gender, sexuality, health, rights and works with young people from in-school and out of school contexts in Delhi NCR, and peri-urban areas in Lucknow and Patna. The programme also equips young people to become CSE advocates at community, state and national level to ensure young people's access to sexual and reproductive health and rights information and services. In the last 15 years, TYPF's programmes have reached out to 450,000 adolescents and young people between 3-28 years of age across 18 states.
THATMATE

7022259525
team@thatmate.com
www.

thatmate

.org
Satara, Maharashtra
ThatMate conducts workshops related to sexual education and basic myths prevalent in society in rural areas. They have conducted many facebook live sessions focussing on issues like depression, tobacco addiction, smoking hazards etc.
They give social messages through the medium of cartoons and have covered topics like transgender people and homosexuality. Their online forum addresses questions from people related to sexual education and myths, some of them being mensturation, masturbation amongst girls and depression related issues. They encourage discussions around topics we would otherwise hesitate to discuss.
If you know any sex educators, who take sessions online or in person, and you think their work is useful, ishq-positive and non-judgemental, email us their contact details at agentsofishq.desk@gmail.com, and we will add them to the list.