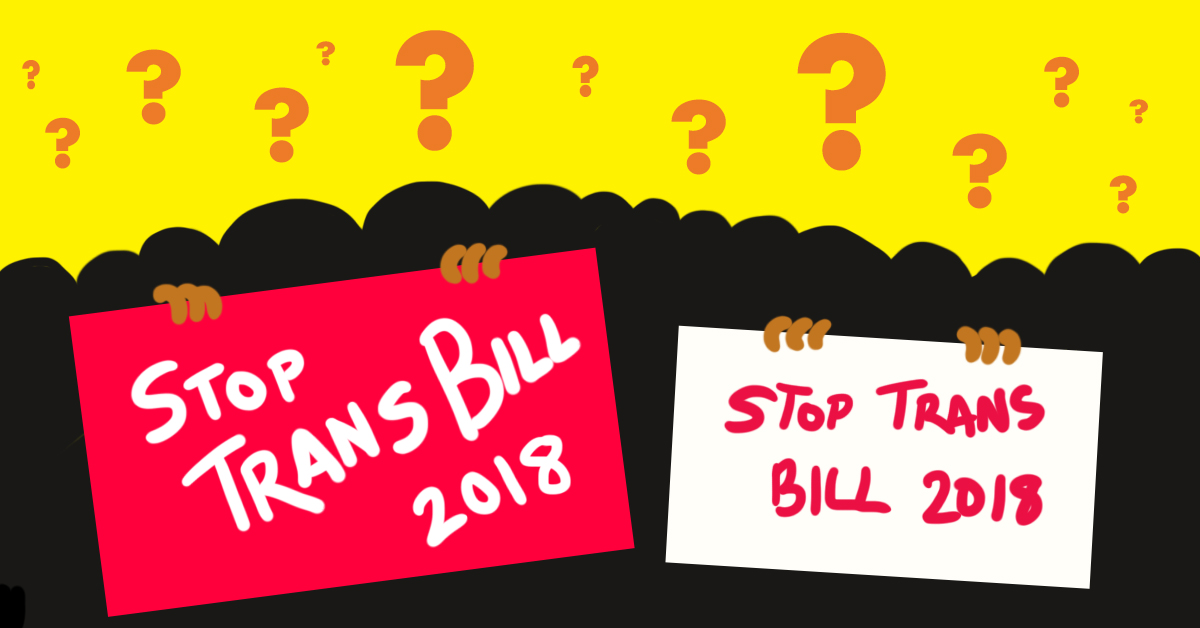 This month, on December 17, 2018, the Transgender Persons (Protection of Rights) Bill 2016 was passed in the Lok Sabha.
The Bill was originally drafted by the Ministry of Social Justice and Empowerment around three years ago. At the time several trans people and activists raised serious concerns about it, seeing it as upholding discrimination against trans people, instead of protecting their rights.
Twenty-seven amendments have been made to the Bill since it was drafted, but activists say it is still discriminatory, mainly for the following reasons:
The very definition of "transgender"
The Bill defines a transgender person as "a person whose gender does not match with the gender assigned to that person at birth and includes trans-man or trans-woman (whether or not such person has undergone Sex Reassignment Surgery or hormone therapy or laser therapy or such other therapy), person with intersex variations, gender-queer and person having such socio-cultural identities as kinner, hijra, aravani and jogta."
Many believe transgender identity should not be defined by biology (even bodies like the WHO and World Professional Association for Transgender Health do not lay down biological criteria), and instead should be defined by the fact that one's gender identity does not align with the sex assigned at birth.  Some also point out that imposing transgender identity on people who are intersex, instead of allowing them to choose their gender, is unfair.
To understand more about differences between Sex, Gender, Orientation, go here.
To read more about what intersex is, go here.
The requirement of proof
The Bill says that it is necessary to get a certificate from a District Magistrate, certifying that one is trans. In order to get this certificate, one has to get past a district screening committee consisting of five people: a Chief Medical Officer, district social welfare officer, a psychologist or psychiatrist, a representative of the transgender community, and a government officer, who have the final say. If a trans person wants to identify as either male or female, they will first need to prove to the committee that they have had surgery to change their genitalia accordingly. There is currently no process to appeal decisions made by the committee.
However in 2014, the Supreme Court ruled that trans people have the right to self-identify as male, female or third gender. The Bill violates the right to self-identify as well as privacy – as it leads to invasive checks to 'certify' a trans person's gender identity.
Its failure to provide legal protection
According to the Bill, trans people found begging can be arrested and jailed for anywhere from six months to two years.
It also lays down sentences for assault and rape of trans persons that are far lower than similar sentences for assault and rape of women (in India, rape, stalking, and sexual harassment laws are not gender-neutral and apply only to women). For endangering the life and safety of a trans person, or for raping a trans person, a criminal can get off with only upto two years in prison and a fine. However, raping a woman carries a sentence from 7 years to life imprisonment. This appears to place lower value on the lives and safety of people who are trans, and denies them equal rights under law.
The lack of reservations
In 2014, the Supreme Court asked State and Central governments to offer reservations for trans people when it came to education and public sector jobs. This has been a major demand of trans activists, along with reservation in politics. However, the Bill makes no mention of reservation, failing to ensure opportunities for education and employment while criminalising efforts to earn a livelihood through begging.
This is not the only possible Bill
Currently, there is one more Bill on transgender rights pending before the Lok Sabha – the Rights of Transgender Persons Bill, 2014, which was introduced by Tiruchi Siva, an MP from Tamil Nadu. Siva's Bill is seen as a better one, but since a similar Bill has already been passed, this one is likely to be dropped. (You'll find more about the two Bills and their journey through the Parliamentary process here.)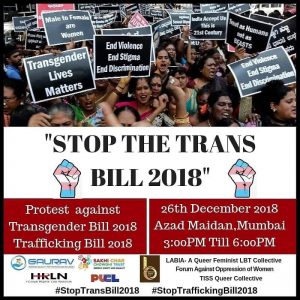 Now that you understand the issues, would you like to register your voice against the Bill?
Here's what you can do:
1. The Bill now has to be passed by the Rajya Sabha before it can become an Act. So it is still possible to prevent it's passage. You can write a letter to MPs explaining why the Bill needs re-examining through this link.
2. You can attend a protest in Mumbai on Dec 26, 2018 at Azad Maidan from 3-6 pm.
3. You can attend a protest in Delhi on December 28, 2018 at Jantar Mantar from 10 am onwards.
Educate yourself more
– For more trans voices and details of protests against the Bill, head here.
– You can read Lawyers Collective's criticism of the Bill here.
– To find resources on the Bill, amendments to it, and details of critiques, head here and here.