Today is the birthday of Meena Kumari – legendary movie star, actor, poet and queer icon.
From Pakeezah to Dil Apna Aur Preet Parayi to Sahib Biwi Aur Ghulam, she gave love-pain a luminous, queen-sized portrayal. Her work affirmed the emotional experience of so many of those who were not part of the mainstream story of acceptable love as encased in heterosexual, married coupledom. In films she played women who dared to love differently, and love persistently, sometimes with self-destruction that bordered on assertion- a role mostly allowed to Devdas and Pyaasa type male lovers. In life, these figures spoke for all those whose love, families, social structures and gender or sexual identities, did not accommodate.
This was an experience present in her poems as well – an appetite for ishq and desire which was an appetite to be oneself to live a big life, sieved and relished through loss and pain. The impossibility of love here though was not about defeatism but really, a kind of social commentary.
Here is a small taste of her poems.
NAZM
Sach
Yeh Tulsi kaisi shan't hai
Aur Kashmi ki jheele'n
Ki skis tarah uthal-puthal ho jati hain
Aur Allah!
Mai'n!
NARM ANDHERA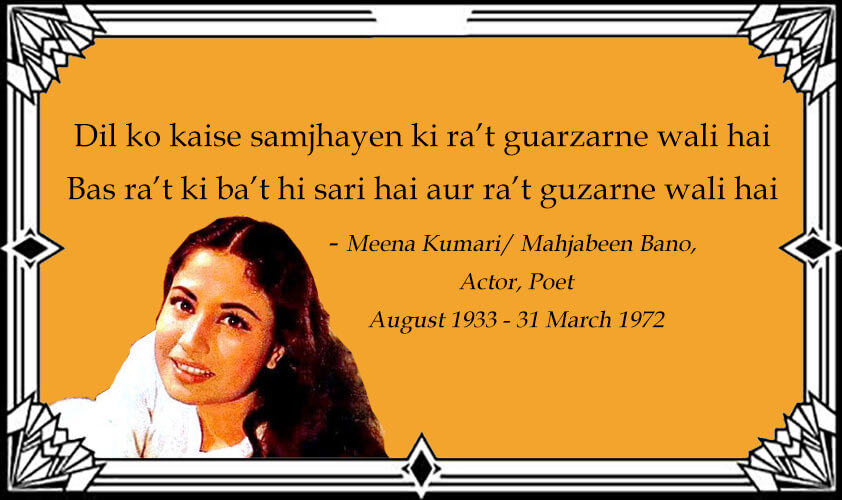 Dil ko kaise samjhayen ki ra't guarzarne wali hai
Bas ra't ki ba't hi sari hair aur ra't guzarne wali hai
Ukje di ke beganon'n mein
Dil bhatka-bhatka rahta hai
Chundhiane wali raushni jab
Is sa'm ko bhi sawnla degi
Dhundhaka ankh churaye jab
Tab ra't ka narm andhera bhi
Ik aas sanbhak ke baithega
Lautega dil jo thaka hara
Waise hi akela bechara
Is ek akele dil ko ham phir kaise-kaise bahlayen
Ki ra't ki baat hi sari hai
Aur ra't guzarne wali hai
Bas ra't guzarne wali hai
GHAZAL
Tukde- Tukde Din Beeta Dhajji- Dhajji Raat Meile.
Jiska Jitna Aanchal Thaa Utani He Saugat Meili
Rimjhim-Rimjhim Bundon Men Jahaar Bhie Hain Amrit Bhee,
Ankhen hansdi, dil roya, yeh acchi barasaat mili
Jab Chaha Dil Ko Samajhe, Hasane Ki Awaze Suni
Jaise Koi Kahta Ho, Le Phir Tujhko Maat Milie.
Maate'n kaisi ghate'n kya, chalt'e rahna aath pahar
Dil-sa sathi jab paya, bechaini bhi sath mili
Honoto taka ate aate, jane'e kitne'e roob bhare
Jalit-buhtu ankhon mein, saad
You can listen to Meena Kumari recite this poem in her own voice in this video
AAKHRI KHWAISH                                                                       
Ye dil ke dharakne ki a'waz – yeh san'nata
Yeh ra't, yeh tanhai
Yeh doobte taro'n ki
Khamosh ghazal khani
Yeh waqt ki palkon par
Soti hui veerani.
Jazbate muhabbat ki
Yeh a'khri angrai
Bajti hui har janib
Yeh maut ki shehnai
Sab tumko bulate hain
Pal bhar ko tum aa jao
Band hoti hui meri a'nkhon mein
Muhabbat ka ek khwab saja jao.
You can read more of her poems in Meena Kumari the Poet: A Life Beyond Cinema by Noorul Hasan
You can read more about her in Meena Kumari: The Classic Biography by Vinod Mehta